One Day. Endless Eyewear. 
Let's get in a fashion-forward frame of mind. The Eye Care Institute at NSU Health hosts our annual Optical Style Show every spring on our main Davie/Ft. Lauderdale campus. Open to the public on the 2nd floor of the Sanford L. Ziff Health Care Center, the show offers a special discount on designer frames.* Discounts are available on the day of the optical eye show at all our locations, including the Fort Lauderdale and North Miami Beach Institutes. We showcase top brands, like Ray-Ban, Oakley, Gucci, Prada, Fendi, Versace, Michael Kors, Tory Burch, Modo, Salvatore Ferragamo, Tom Ford, Kate Spade, Nike, Guess and more.
Fabulous eyeglasses are just the beginning. There's so much more to see at the Optical Style Show: delicious bites and fun raffle prizes as you shop, eat and score the perfect pair. 
* Discounts not valid with insurance or other discounts.
Showcasing Full Collections of the Top Brands in Eyewear
Receive 360 Vision Care at NSU Health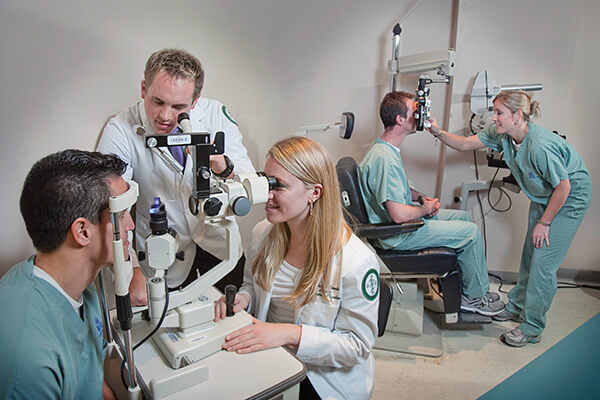 Visit The Eye Care Institute at NSU for a full spectrum of affordable primary and specialty eye care services. Whether you need an annual eye exam or management and treatment of eye conditions, you'll be seen by the College of Optometry's talented team of experienced faculty members and skilled students. Explore our many eye clinic locations in South Florida, and get the vision care you deserve.
Schedule an Appointment
At NSU Health, we are committed to making the scheduling process as convenient as possible by creating a seamless, friendly, and patient-centered clinic experience. We typically respond to online submissions within two business days.
 For faster service, call the NSU Patient Engagement Center at (954) NSU-CARE (Mon-Fri, 8:00 a.m.- 5:00 p.m.). For our designated veteran's hotline call (954) 262-3524 and select option 2. 
Learn more about the health insurance plans NSU Health accepts.