Attainable, Affordable, Quality Care
NSU Health is helping to make lives in our community better one smile at a time and is now offering $10 dental screenings at our Clearwater dentistry office. 
We offer high-quality dental care at a fraction of the cost of private dental providers. Our student dentists-in-training work under the supervision of experienced faculty dentists. Our beautiful waterfront dental facility is run like a typical dentist's office, with a friendly staff educated in the latest dental techniques, research, and instruments.
Guided by professionals from NSU's College of Dental Medicine, we provide comprehensive oral health care and specialty dental services in our state-of-the-art Clearwater facility. Achieve optimal oral health at one of the nation's top dental colleges, with the best teaching clinic facilities in the Southeast United States.
Schedule a Screening or Appointment
Call 813-574-5380 or email clearwaterdental@nova.edu Monday through Friday between 9:00 a.m. and 4:30 p.m. to request your screening appointment.
As a teaching facility, appointments may last longer than a typical dentist visit. You will receive personal, one-on-one dental care conducted by student dentists under faculty supervision, using the latest technology available.
To ensure that our fees remain low, we do not accept dental insurance.
NSU Health's Clearwater Dentistry Office Provides​
$10 Dental Screenings & Low-Cost Dental Care
Digital Technologies, Enhancing Dental Services
Beautiful State-of-the-Art, Waterfront Facility
Clearwater Dentistry Office Specialties​
NSU's dental faculty and students are skilled in all areas of dentistry, providing comprehensive dental services such as:
Diagnostic
Comprehensive oral evaluation includes dental exams, oral cancer screenings, and digital x-rays.
Implant Dentistry
Replace missing teeth with dental implants accurately simulating natural teeth.
Dental Hygiene
Preserving healthy teeth and gums by removing plaque and tartar above and below the gum line. Additional services include oral hygiene instructions, fluoride treatments, teeth whitening, and tobacco cessation assistance.
Fixed Prosthodontics
Restores broken or decayed teeth with crowns, veneers, fixed partial dentures, inlays, and onlays utilizing various modern materials.
Periodontics
Treatment employs modern techniques to prevent, diagnose, and treat diseases of the gums, tissues, and bone that surround and support teeth.
Removable Prosthodontics
Replace missing teeth for partial or complete edentulous patients with customized solutions which include partial or full dentures.
Operative Dentistry
New techniques that utilize modern materials such as tooth-colored composite to repair decayed and broken teeth to meet individual needs.
Oral and Maxillofacial Surgery
Provides treatment for patients requiring the extraction of hopeless teeth and other procedures related to oral diseases.
Endodontics
Non-surgical root canal therapy and related services are offered using state-of-the-art equipment and techniques designed to save teeth.
Location
NSU Health's Clearwater Dentistry office is located at Nova Southeastern University's Tampa Bay Regional Campus, a state-of-the-art, high-tech waterfront campus that houses a variety of medical, health care, and other graduate and professional degree programs.
Address
3400 Gulf to Bay Blvd., Clearwater, FL 33759
Amenities
In addition to your affordable dental screening, enjoy a waterfront view and many onsite amenities, such as a café and a Starbucks. You can also take a relaxing campus stroll. Free parking is provided during your visit.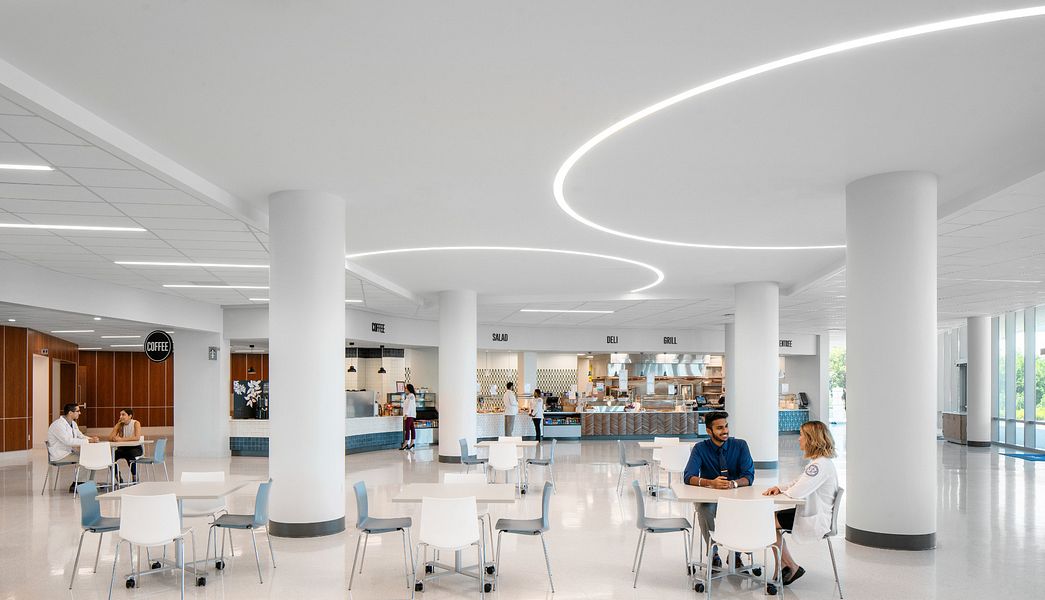 About NSU Health's Clearwater Dentistry Office
NSU Health's Clearwater dental office is affiliated with NSU's Drs. Kiran and Pallavi Patel International Dental Program, part of the NSU College of Dental Medicine. The International Dental Program of Tampa Bay is a unique three-year accelerated program for dentists from other countries to earn a D.M.D. degree so they can practice in the United States—the only one of its kind in Florida.
NSU Health is guided by professionals fostering the well-being of the community and redefining patient care. They rely on resources and cutting-edge technologies to fuel quality research, clinical practices, and education. They are trusted not only by their colleagues, but also by their patients and students.
NSU Health's Clearwater dental office is possible thanks to Drs. Kiran and Pallavi Patel who support and positively influence our community through education and health care.
Patient Forms
Once you've scheduled your screening, please make sure to fill out the New Patient Packet. All forms, including those for each specific health care service, can be found at the link below.